Trayvon Martin inspires a call to action at YDS
The Yale Black Seminarians (YBS), a student organization at Yale Divinity School, is calling on people of faith to act with "boldness, courage, and honesty" in addressing the challenges raised by the "not guilty" verdict in the George Zimmerman case.
>Read more
Bryan Spinks: the modern jostle over the future of worship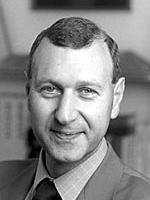 From his vantage point, professor Bryan Spinks attends to the struggle, the battle, the modern jostle over the future of worship, and what it says about our image of God and about ourselves. "Today the good news about worship is also problematic – everyone who worships has a view about how worship should be done. They want a say, and why shouldn't they?" says Spinks, who is Bishop F. Percy Goddard Professor of Liturgical Studies and Pastoral Theology at the Yale Institute of Sacred Music and Yale Divinity School. >Read more
YDS alumni take the lead at UCC General Synod 2013
The YDS community is proud to recognize a number of alumni who played prominent roles at the General Synod 29 of the United Church of Christ which took place from June 28 - July 2 in Long Beach, CA. These leaders represent four decades of YDS alumni workng to continue the faith and action of the UCC. >Read more
From Dean Sterling: two new faculty members welcomed to campus
I am very pleased to announce that this fall YDS will welcome two new faculty members to our campus: Assistant Professor of Religious Education Almeda M. Wright and Assistant Professor of Philosophy of Religion John Pittard. Both of these scholars have made significant contributions in their fields and we look forward to the ways they will enrich our distinguished faculty here at YDS. >Read more
From the Alumni Board: what makes space sacred?

The setting of Dan Brown's latest novel, Inferno, has brought renewed attention to the Italian city of Florence. And one can hardly think of Florence without also thinking of the iconic structure that dominates the Florentine skyline, the Cathedral of Santa Maria del Fiore, otherwise known as Brunelleschi's Dome. >Read more
From Carolyn Sharp: theological education after Trayvon Martin
"Even when I cry out, 'Violence!' I am not answered. I call aloud, but there is no justice." (Job 19:7). These Scripture verses were among those streaming across my Facebook newsfeed on July 13, 2013 when George Zimmerman was acquitted in the February 2012 shooting death of Trayvon Martin. >Read more
FEATURED EVENTS
Dean Sterling to travel to South Korea, Nov 1-7
November 1-7: Dean Greg Sterling and other YDS representatives will travel to South Korea to visit alumni in Seoul and participate in the 10th Assembly of the World Council of Churches in Busan. If you are planning to attend the Assembly, please email john.lindner@yale.edu. We will be in touch early in the Fall with more details about a YDS gathering. >WCC Site
Convocation & Reunions 2013
October 23-25, 2013
Classes celebrating reunions include:
1953 — 60th
1958 — 55th
1963 — 50th
1967, 1968, and 1969 Cluster Reunion
1982, 1983, 1984 Cluster Reunion
1988 — 25th
2002, 2003, 2004 Cluster Reunion
2009 — 2013 Recent Grads
If you would like to be involved in planning your class reunion or have a favorite photo or two from your years on the Quad, please e-mail kira.wishart@yale.edu or call 203-432-5359
Have an idea for Notes from the Quad?
Use our online form to send us your ideas for upcoming issues. We are looking for news about alumni, current students, current and former faculty, as well as staff and friends of the Divinity School.